How do you make the best decision between a Cloud vs On-Premise solution?
All you hear these days are how Cloud solutions are the solution of choice, but no one talks about the potential hidden cost when deciding to move to the cloud.
Any cloud sales person will tell you Cloud is the cheapest solution, but is it true?
Before making a decision to adopt a Cloud Solution for your next project or migrate your existing systems from an on-premise solution to a Cloud solution it is important to understand the potential hidden cost in Cloud solutions as well as carefully assess your organization's readiness for adopting a cloud solution.
We want to help you avoid costly mistakes. in the above video, we will explain the potential hidden cost associated with a cloud solution.
There is more. We have created a FREE workbook that will help you to determine what solution is best for you Cloud vs On-Premise.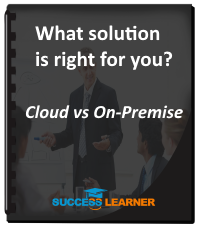 Free workbook to help you select the best solution for you
To help you select the best solution for you, we have created a workbook with practical exercises that will guide you through an assessment to help determine the best solution for your company.
And the best is it is available for FREE. (Fill in the form)
* we respect your privacy, your information will never be shared or sold!
Learn more about the NEW SAP Activate Methodology which supports both Cloud and On-Premise solutions here. New To SAP Activate learn more about SAP Activate here